Schedule for this week 29th – 4th
Sun:
Open Tables
Mon:
Magic the Gathering Draft 7pm
Tues:
Board Games 5pm
Wed:
New Comic Book Day
Magic the Gathering Commander (1v1) 6pm
Thurs:
Miniature Gaming 5pm
Warmachine and Horde League 5pm
Fri:
Friday Night Magic (Sealed) 7pm
Sat:
Open Tables
Featured Products of the Week

MTG Italian Moat: $375
Card Text: Non-flying creatures cannot attack.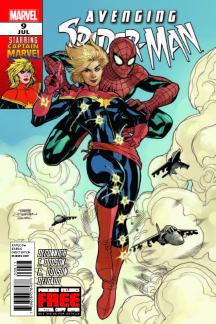 Avenging Spider-Man #9: $50
1st appearance of Carol Danvers as Captain Marvel
Spider-Man plummets into action with the star of this month's hottest new comic: the all new Captain Marvel! 50,000 feet up and only on one of them can fly … Is the World's Greatest Super Hero Ready for a ride with Earth's Mightiest Hero?
Featured Board Game of the Week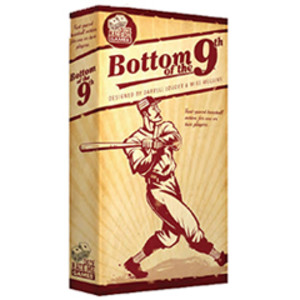 It's the bottom of the ninth inning. The game is tied. It's down to the home team to score one run to win it all. Unfortunately, the home team is staring down the league's best closer.
A dice and card game for two players, Bottom of the 9th brings all the excitement of the final three outs of a baseball game into a compact 5-20 minute game session. With variable player strengths, bluffing/deduction, and die-rolling, only the pitcher knows what's coming and the batter needs to keep his eyes peeled. Bottom of the 9th is played over the course of three outs, or four hits (for one run scored) — whichever occurs first.
Bottom of the 9th includes tons of variable player powers, myriad customizable line-ups, the possibility of two added expansion packs, and rules for advanced league and solo play to keep gamers wanting to play ball time and time again.
Comic News
New Comics this Week
Jonathan's Pick of the Week: Paper Girls #11 (Image Comics): A bold new story arc starts here! The Eisner and Harvey Award-winning "Best New Series" from BRIAN K. VAUGHAN and CLIFF CHIANG returns, as Erin, Mac, and Tiff any finally reunite with their long-lost friend KJ…only to encounter some horrifying new threats in an unexpected era.
Aquaman #16
Batman #16
Cyborg #4
DC Comics Bombshells #22
Death of Hawkman #5
Green Arrow #16
Green Lanterns #16
Harley Quinn #13
Justice League #14
Nightwing #14
Super Powers #4
Superman #16
Invincible #132
Paper Girls #11
Walking Dead #163
All-New X-Men #1.MU
All-New X-Men #18
Avengers #4
Bullseye #1
Champions #5
Deadpool #26                             Hawkeye #3
Monsters Unleashed #2
Moon Knight #11
Nova #3
Old Man Logan #17
Star Wars #28
Star Wars Darth Maul #1
Unstoppable Wasp #2
and more!
New Year Cleaning
Make sure to clean out your comic subscription boxes at least once during January so we know you are still active. Thanks and enjoy the new year!
Tell us what you think
What else do you want to see in our newsletter? What do you like/dislike? Email your thoughts to Sam@borntogame.net
You are receiving this email because
1.) You're an awesome customer of Born to Game or
2.) You subscribed via our website
Want to be removed? No problem, Unsubscribe Here

Born to Game
547 S Red Haven Lane Dover, DE 19901
(302) 387-1129
Contact us
Comments
comments